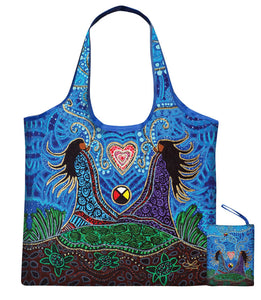 Designed by Métis Artist Leah Dorion.
"Our breath gives us life and is the sacred vessel which carries our voice.  When words are shared with loving positive energy our world is greatly impacted."
This reusable shopping bag has a large capacity of 40 x 50cm and can hold up to 15Lbs. The handles measure 18cm in height.
Stored conveniently in a matching pouch measuring 12 x 15cm.